Tangled Web 1994-1995.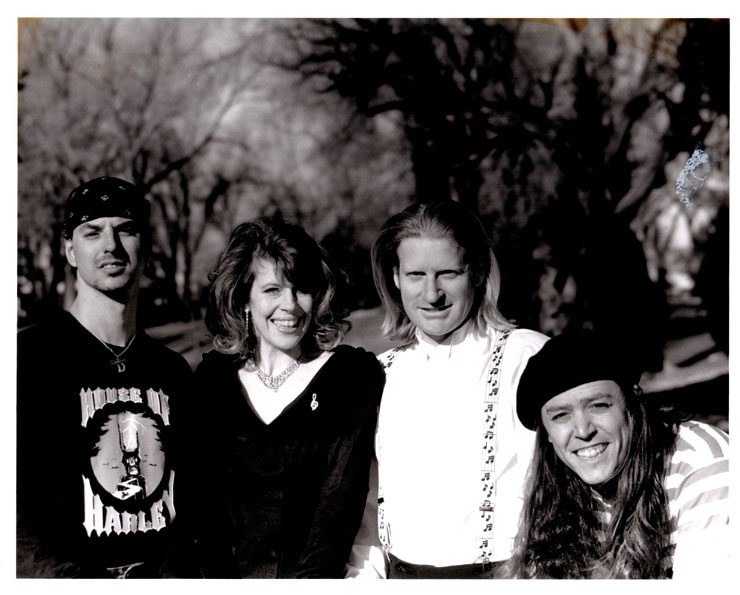 Music, Music, Music...
---
Jam night at "Grandpa's Pub"...
Bat and Dorothy used to play a "jam night" every Tuesday at a club called, "Grandpa's Pub" on Eubank Blvd.&nbsp Don't look for it, it's no longer there.&nbsp One Tuesday night while out with Hillary Smith (it's Urzetta now), she suggested that we stop by Grandpa's Pub to see Bat and Dorothy.&nbsp Hillary knew that I knew Bat and besides, Grandpa's was becoming a regular Tuesday night hang-out for all us musician types.
Every once in a while a percussionist would show up at Grandpa's with a conga that he would set on the floor and play or let other cats play.&nbsp Eventually the single conga became a regular part of the Tuesday night stage regalia.&nbsp One night, by invitation, I joined Bat and Dorothy on stage.&nbsp I had a really great time jamming with them.&nbsp We clicked.&nbsp I mean, we really clicked.&nbsp Eventually I became a regular addition to their Tuesday night duo.&nbsp After a while a mutual friend and player, Mike Larson, joined us on the keyboards.&nbsp He and Dorothy were becoming somewhat of an item so it was only natural that her boyfriend should join us on nights he wasn't off doing his own gigs.&nbsp I actually had gone to high-school with Mike and even worked at an Arby's with him when we were kids!&nbsp Mike's awesome keyboard playing rounded the band out really nicely, especially since he was playing bass with the lower keys on the keyboard.&nbsp I have to say that of all the musicians I have worked with, Mike Larson is among one of the absolute best.&nbsp Furthermore, he is by far the best keyboard player I've ever had the priviledge of sharing a stage with.
Every Tuesday night we would meet up and jam together.&nbsp Honestly, it was magic.&nbsp Tangled Web easily had the highest concentration of talent of any band I've ever worked with.&nbsp Della Street was like the Beatles, with no real virtuoso players.&nbsp We just played well together.&nbsp Tangled Web was more like Emerson, Lake and Palmer, having an extremely talented ensable that could play just about anything.&nbsp Between Mike and Bat's virtuosity, and Dorothy's perfect pitch, powerful voice and dynamic performance, Tangled Web was unstoppable.
A band is born...
One Tuesday night, after our usual jam session, Bat pulled me aside and asked me to join the group as a permanent player.&nbsp He said that the three of them had already decided to form a band and they wanted me to play percussion.&nbsp Keep in mind that Della Street, my previous band, had just broken up a month earlier.&nbsp I hadn't had a weekend off in almost 10 years.&nbsp I had vowed to take some time off from music, but honestly, the beat was calling.&nbsp This was a group I could hardly resist!&nbsp The talent was over-abundant, nobody did drugs or drank, and the the play list was extremely phun.&nbsp In addition I had become intrigued with playing the congas.&nbsp I had been playing a drum kit professionally for years and years.&nbsp This was different, new...phun!&nbsp I told Bat that I would join up under the condition that the band stay acoustic.&nbsp He agreed that that was the direction they wanted to persue.&nbsp The stage was set!
Unfortunately, after a couple months of gigging, it became blatantly apparent that the Albuquerque music scene couldn't support an accoustic quartet.&nbsp It was getting harder and harder for Bat to find gigs.&nbsp After some hemming and hawing I agreed to break out the drum kit.&nbsp However I still brought the congas and played them for some of the songs.
Our first tour to Asia...
One night Bat says to me, "How would you like to play overseas?"&nbsp Back in the Della Street days I had been persuing an overseas gig with the USO.&nbsp After about a year of bangin' my head against the wall I gave up.&nbsp Bat was beating his head against the same wall but fortunately his head's a little harder than mine.&nbsp He never gave up.&nbsp Finally, after years and years of letters and phone calls, the USO decided to send a person out to listen to us - an audition!
Around the time the USO agreed to send a representative to Albuquerque to listen to us, I had booked an outdoor, Friday night gig at Hooters.&nbsp Unbeknownst to me at the time, the USO lady was to be in town for that Friday night only.&nbsp She was then scheduled to head back to Washington, D.C. the next morning.&nbsp This tiny piece of missing information proved to be pivotal in our audition plans.
Eventually the big day arrived - our audition day!&nbsp We were as excited as any band could ever be!&nbsp I got up that morning to find that the sky was full of black clouds (remember we were scheduled to play outdoors) and it was cold, wet, rainy, and miserable.&nbsp My thinking was that if the weather didn't hold up we could simply invite the USO lady to our gig the following night.&nbsp Our Saturday night date was a club date.&nbsp We would be playing indoors.
Finally around 7:PM, with no change in sight, I called the manager of Hooters and canceled the gig.&nbsp Because of the bad weather the manager agreed that an outdoor gig on their patio would be a waste of time.&nbsp I called Bat to give him the news, which I didn't think was going to be a big deal.&nbsp How wrong I was.&nbsp At first I was shocked at how badly he was freaking out.&nbsp I told him, "Calm down, dude.&nbsp We'll just invite the USO lady to see us tomorrow night."&nbsp He explained, "There is no tomorrow night!&nbsp They're leaving tomorrow morning!"&nbsp Hmmmm..."Okay," I said, "What do you want me to do?&nbsp I can't control the weather!"&nbsp Bat bemoaned, "Screw the weather!&nbsp Get that gig back, man!"
So I got on the horn and called the club manager (we'll call him Dave).&nbsp Dave said that there was no way he was going to pay a band when we all knew good and well that people weren't going to show up see a band play in the rain and the cold.&nbsp I laid out a plan, "Look...we've got a very important audition tonight.&nbsp Let us set up and play.&nbsp If nobody shows up, you don't have to pay us.&nbsp If a crowd does show up, you can pay us the agreed-upon price.&nbsp You have nothing to lose."&nbsp He was hesitant, but being a club manager, the word "free" was too hard to resist.&nbsp So there was no misunderstanding, Dave reiterated what I had said about the band playing for free, and then agreed that that would be okay.&nbsp The gig was back on!&nbsp I called Bat and relayed the news to him before he did any more damage to his hand from pounding it against the wall.
Around 8:PM we all started converging on Hooters to set up for our 9:PM gig.&nbsp Funny thing about N.M. is the weather can turn at a moment's notice, and turn it did.&nbsp As if on queue, we no sooner got our stuff set up when the air dried out, the setting Sun peeked out from behind the clouds and the temperature warmed up a good 20 degrees.&nbsp By 9:00 it was gorgeous out!&nbsp We started playing and people showed up in droves!&nbsp By 10:00 the patio was packed and rockin'!
Finally, around 11:PM the USO lady showed up with her entourage.&nbsp Having a packed and rockin' house certainly didn't hurt our audition!&nbsp During the break we had a chance to meet with her and her "people."&nbsp She said she was very happy with what she had seen.&nbsp To add to the fervor, Dave came up to me and asked if we would play an additional set.&nbsp I said, "Sure, for another hundred bux."&nbsp I informed the band that we were making an extra 25 bucks a guy that night.&nbsp It was a truly magical night...
Within a week Batman was on the phone with the DoD securing a 3 month tour of Asia.&nbsp We spent most of our time in Korea but we also played in Guam, Okinawa and the Kwajalein Atoll.&nbsp The tour started in September and lasted through November.&nbsp Our first World Tour...it was a dream come true!
First Stop; Korea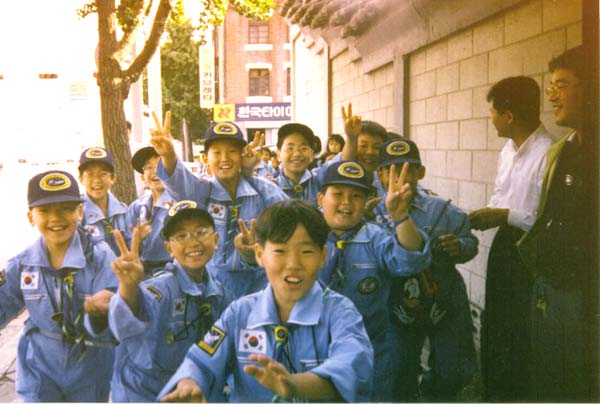 Click on image to read about Tangled Web's tour to Korea.
---
Second Stop; The Kwajalein Atoll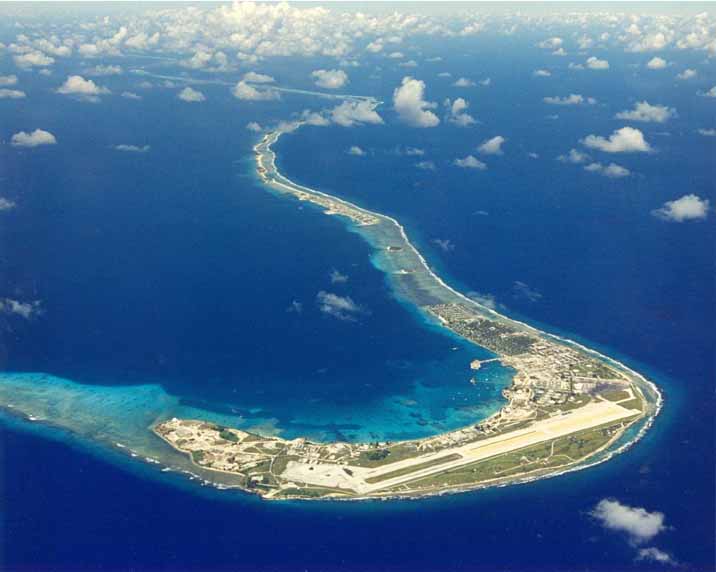 Click on image to read about Tangled Web's tour to Kwajalein.
---
This page was updated February 25, 2005 - 12:AM.&nbsp Look for more updates in the near future.
---


E'mail me

Go back to "My Music" page



All pictures & material Copyright &copy 2005 Donnie Frank